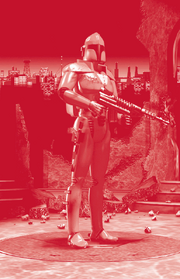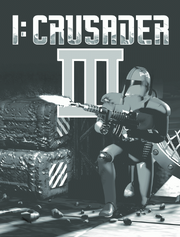 I, Crusader is a long-running jaw-clenching, mind-frying action series of interactive feature experiences. Installments usually come out on spring. The original I, Crusader was released during the 2180s, and the franchise lasted for more than a decade with I, Crusader VII in 2196.
I: Crusader III proved very popular in Darkside Station. Due to popular demand, it was held over for additional three screenings in the Colony Auditorium.[1]
The main character is Captain Will Strang (Colin Mann) of the Silencer Corps. The practically unkillable Strang blasts his way through hoards of terrorists, subversives and other sinister types with his stone-faced enthusiasm. General Drake (Ilsa Navaroo) is Strang's long-suffering CO. Always there's an exotic newcomer to play the Silencer's love interest.
Each episode follows a formula of juxtaposing cinematic sections with first-person interactive action scenes, which proved successful. The correct responses are a bit too obvious, and the game play is lacking. In compensation, the action scenes are spectacular, combining amazing live-action stunts and pyrotechnics with state-of-the-art interactivity algorithms.
The sixth sequel featured Rosalita Chaing as Strang's love interest, and The Saracen (Josef Davis) as the main villain, an ex-Silencer turned mercenary terrorist. According to reviewer David Matisse in Top Line, it was the feature's most weak point, as between the Silencer Corps applicant screening and psych-conditioning, Silencers are completely loyal to the WEC for life, making the scenario implausible.[2]
References
Edit